Who we Are ?
eVASS Infotech India Pvt. Ltd. (formerly known as Valueadd Software Solutions) - a decade old company based out of Bangalore, India specializes in building robust, scalable products and provide world-class IT Services for our valued customers and provide them business solutions adding business value incrementally and continuously.
Our products are designed for long haul stability and reliability and are the hallmarks of our projects and delivery. We are partners with our customers to turn any wild and complex business problems into easy-to-use solutions through seamless digital experiences.
Backed by a team of highly experienced management team with a deep background in product and application development, our company understands the business problems; can quickly visualize and turn such problems into automation ideas.
We believe in long term relationships with our customers by collaborating as partners along the journey of their growth creating a positive and sustainable win - win partnerships.
We are very proud of our commitments to our customers by being a team of smart and highly talented collaborative and passionate teams.
2007

ESTABLISHED IN

CLIENTS WORLD WIDE

PROJECTS COMPLETED

TEAM MEMBERS
Vision

To be an enabler in the growth of our customers by arming them to make the right, quick and informed business decisions.

Mission

Build best solutions and products through collaboration among internal and external stakeholders to ease the work, enhance productivity of the workforce at large and provide value for money.

Values

We strongly believe that a value system is what bonds business relationships.
Customer Retention is our Strength. and we dwell on it…
Our simple approach to business solutions
We Discover

Collaborate with the customer, understand customer challenges and opportunities which enable them to realize their business strategic vision. We draw up an initial feature list for further brainstorming and detailing.

We Wireframe and develop a prototype model

Wireframes helps to further brainstorm and analyze the business flow in pictorial representations. We do multiple rounds of focussed workshops to turn the initial feature list to a prioritized product backlog. We take into confidence and collaborate with every stakeholder in this exercise. Besides, we quickly turn the business flow into a prototype model to help our customers visualize the product with ease and any feedback is accommodated in the initial stages itself

We design and Architect

Our domain experts together with technical teams would brainstorm to turn the customer requirements into a highly scalable, technically viable product design by accommodating multiple data, interface and future scalability requirements. The design document is reviewed with our client on a need basis to further formalize the customer's needs and expectations.

We build and deliver

Our highly collaborative Agile development team develops the features by working alongside the domain specialists to churn high quality product backlog stories into digital product increments. Continuous and iterative methods are used to develop high quality products. Any issues and blocks which inhibit development are quickly identified and resolved by the teams. We specialize in web application development, product development which are responsive and focus on rich user experiences. We also build mobile apps for iOS and Android platforms.

We rollout and help in the business operations

We understand that the business houses can realize their business vision through a sustained realization of revenues/value through a smooth long haul operations management. We at eVASS help our customers not just to maintain the product but also help them to be competitive in the market by enhancing the product and thereby provide continuous business value. After all, we believe in customer collaboration not just for providing digital solutions but also to be a part of their business journey and realization of their company's vision and objectives.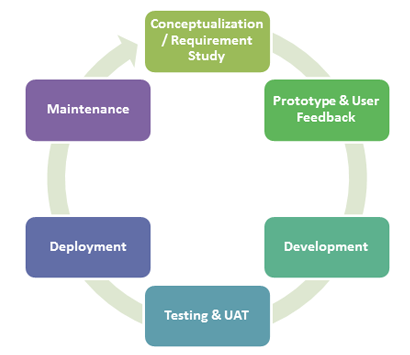 Conceptualization / Requirement Study
From the initial basic requirement, our team of talented domain experts with vast experience in requirement gathering will get into action. Through structured questioning, they gather all the requirements including minute details which the customer would have otherwise skipped or not though about. A Product specialist (Product Owner) would act as interface between the customer and the development team.
A solution detailing document is prepared along with process chart and sent to the Customer for approval. Once approved, a formal commercial proposal is sent to the customer.
Prototype & User Feedback
Upon receipt of Purchase Order, our design & development Team will develop a Prototype incorporating all the details which were captured & finalized during the requirement Study. Walk-through of the Prototype will be done with the Customer and also access to review is given. The Customer involves the end-user(s) and takes them through the Prototype, any Gaps or additional requirements are captured during this. If there are additional requirements then the proposal is revised, if gaps are there it is plugged
Development
Our Development team will start adding flesh into the Prototype incorporating the defined workflows & business rules

Application is built brick by brick and tested at program level

Once the application is completely developed, it gets deployed in the Testing Environment
Testing & UAT
Once the application is deployed on the Test environment, our Quality team will get into action testing each & every aspect of the application using Test Cases which are developed specifically for the application.

Test cases comprises of Business Scenarios, Business Rules, Validations, desired output etc

Once the internal testing is completed, training is provided to the Customer during this stage.

Access to the test environment will be made available to the Customer to do a UAT and get the sign-off within a specific time period
Deployment & Maintenance
On receiving the UAT sign-off, the application is deployed on the Live Server and the Customer is given admin access to the Application to create Users, give necessary authorization etc.

After agreed Post Go-Live Support, Customer is engaged with a Support Contract wherein Support Tickets raised by the Customer are addressed & resolved a per agreed SLAs